The day of the Norway attacks – level 1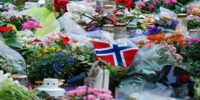 22-07-2011
Anders Breivik is from Norway. He is 32 years old. He doesn't like Muslims in Norway. He wants to stop immigration to Norway.
He wants to attack people who are responsible for immigration. He wants to attack politicians in Norway. He is working on his plan for nine years.
Breivik buys guns. He makes a bomb. He puts the bomb into his car. He parks the car in Oslo before the office of the Prime Minister. The bomb explodes on July 22, 2011. The explosion kills 8 people.
After the explosion, Breivik goes to the island of Utoya. The island is in the middle of a lake. There are 600 people at the summer camp on the island. The camp is organized by politicians in Norway.
When Breivik comes to the island, he starts to shoot at people. He kills 69 people. Many of them are teenagers.
Difficult words: responsible (if you are responsible for something, you did it), politician (a person who works in politics), Prime Minister (the leader of the government), explode (to change quickly into many small pieces), shoot (to use a gun).
What consequences did the attack by Anders Breivik have on the Norwegian government and its policies?
LEARN 3000 WORDS with DAYS IN LEVELS
Days in Levels is designed to teach you 3000 words in English. Please follow the instructions
below.
How to improve your English with Days in Levels: 

Test
Do the test at Test Languages.
Go to your level. Go to Level 1 if you know 1-1000 words. Go to Level 2 if you know 1000-2000 words. Go to Level 3 if you know 2000-3000 words.

Reading
Read two new articles article at Days in Levels every day.
Read one previous article too and check if you remember all new words.

Listening
Listen to the new article and read the text at the same time.
Listen to the new article without reading the text.

Writing
Answer the question under the new article and write your answer in the comments.