The day of the Madrid train bombings – level 2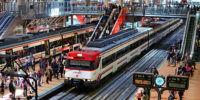 11-03-2004
It is March 11, 2004, in the morning. Thousands of people are travelling by trains in Madrid. They are travelling to work or school.
At 7:37, three bombs explode in one of the trains. Soon, more bombs explode in three other trains. People are shocked. They don't know what to do. Dead bodies are lying around the trains. There is smoke everywhere and people are crying.
Ambulances start coming immediately to the stations where the explosions happened. Doctors are helping those who survived.
The result of the bombs is devastating. There are 193 people dead and more than 2,000 injured.
The police discover that men from North Africa are behind the attacks. 21 terrorists are arrested. Some of them are sent to prison for 40 years.
Many people in Spain think that the attack could be revenge for Spain's participation in the war in Iraq.
The next elections in Spain are won by a party which wants to send Spanish soldiers in Iraq back home. Soon after the elections, Spanish soldiers really leave Iraq.
Difficult words: devastating (extremely sad), arrest (to take to a police station), revenge (to hit a person because the person hit you), participation (when you do something together with others), elections (when people choose their government).
What would you have done if you had been in Madrid on March 11, 2004?
LEARN 3000 WORDS with DAYS IN LEVELS
Days in Levels is designed to teach you 3000 words in English. Please follow the instructions
below.
How to improve your English with Days in Levels: 

Test
Do the test at Test Languages.
Go to your level. Go to Level 1 if you know 1-1000 words. Go to Level 2 if you know 1000-2000 words. Go to Level 3 if you know 2000-3000 words.

Reading
Read two new articles article at Days in Levels every day.
Read one previous article too and check if you remember all new words.

Listening
Listen to the new article and read the text at the same time.
Listen to the new article without reading the text.

Writing
Answer the question under the new article and write your answer in the comments.