The day of the Lockerbie bombing – level 1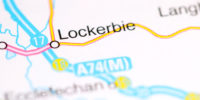 21-12-1988
It's the time before Christmas in 1988. People are preparing for the Christmas holidays. Many people are travelling from Europe to the USA. They want to visit their families.
On December 21, 1988, a big plane flies from London to New York, USA. There are 259 people on the plane. At 19:03 or 7:03 PM, a bomb explodes in the plane. The explosion breaks the plane.
Parts of the plane fall from 9 kilometers. They fall down to the town of Lockerbie. This town is in the south of Scotland. The biggest part has 90 tons.
The parts of the plane hit the ground. They kill 11 people who live in Lockerbie. All 259 people in the plane also die. At that time, people don't know that it is a terrorist attack.
Soon after the tragedy, people get information. They know that there was a bomb in the plane. Now, it is clear that it is a terrorist attack. People think that a Libyan man puts the bomb on the plane.
Difficult words: explode (to change quickly into many small pieces), break (to stop working), ton (1,000 kilograms), terrorist attack (when a person does something to scare others because of political reasons), tragedy (a very bad accident).
What has been the impact of the Lockerbie bombing in terms of how air travel has changed since that event?
LEARN 3000 WORDS with DAYS IN LEVELS
Days in Levels is designed to teach you 3000 words in English. Please follow the instructions
below.
How to improve your English with Days in Levels: 

Test
Do the test at Test Languages.
Go to your level. Go to Level 1 if you know 1-1000 words. Go to Level 2 if you know 1000-2000 words. Go to Level 3 if you know 2000-3000 words.

Reading
Read two new articles article at Days in Levels every day.
Read one previous article too and check if you remember all new words.

Listening
Listen to the new article and read the text at the same time.
Listen to the new article without reading the text.

Writing
Answer the question under the new article and write your answer in the comments.