The day of the Live Aid concert – level 1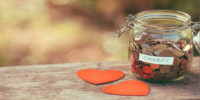 13-07-1985
It is 1984. Bob Geldof is a singer from Ireland. He watches the news on TV. He sees people in Ethiopia. The people are very hungry.
Geldof wants to help the people in Ethiopia. He records a famous song. The song makes £8 million for Ethiopia.
Geldof wants to help more. He prepares a mega concert. He invites very famous singers. The concert starts on July 13, 1985.
Phil Collins, Paul McCartney, Madonna, Tina Turner, and Queen play at the concert. 160,000 people visit the concert. Many people watch the concert on TV.
The concert makes £50 million for people in Ethiopia.
Difficult words: record (to store a new song), mega (very big), invite (to ask to come).
What other ways has Bob Geldof used to help people in Ethiopia since 1985?
LEARN 3000 WORDS with DAYS IN LEVELS
Days in Levels is designed to teach you 3000 words in English. Please follow the instructions
below.
How to improve your English with Days in Levels: 

Test
Do the test at Test Languages.
Go to your level. Go to Level 1 if you know 1-1000 words. Go to Level 2 if you know 1000-2000 words. Go to Level 3 if you know 2000-3000 words.

Reading
Read two new articles article at Days in Levels every day.
Read one previous article too and check if you remember all new words.

Listening
Listen to the new article and read the text at the same time.
Listen to the new article without reading the text.

Writing
Answer the question under the new article and write your answer in the comments.