The day of the Kursk submarine disaster – level 1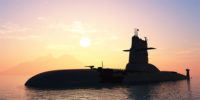 12-08-2000
It is August 12, 2000. The Russian submarine Kursk is in the Barents Sea. There are 118 men on board.
At one moment, a torpedo explodes inside the submarine. The submarine starts to go down. Two minutes later, there is another big explosion.
Many sailors die in the second explosion. Then 23 men stay alive in one section of the submarine A fire starts in this section, too. The fire takes all the oxygen from this area. All 118 men on board the submarine die.
Difficult words: submarine (a ship which can stay underwater), sailor (a person who works on a ship), alive (not dead), section (a part), oxygen (what we breathe).
What steps were taken to retrieve the bodies of the submariners who died on the Kursk?
LEARN 3000 WORDS with DAYS IN LEVELS
Days in Levels is designed to teach you 3000 words in English. Please follow the instructions
below.
How to improve your English with Days in Levels: 

Test
Do the test at Test Languages.
Go to your level. Go to Level 1 if you know 1-1000 words. Go to Level 2 if you know 1000-2000 words. Go to Level 3 if you know 2000-3000 words.

Reading
Read two new articles article at Days in Levels every day.
Read one previous article too and check if you remember all new words.

Listening
Listen to the new article and read the text at the same time.
Listen to the new article without reading the text.

Writing
Answer the question under the new article and write your answer in the comments.