The day of the Hindenburg disaster – level 2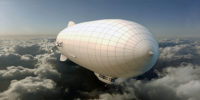 06-05-1937
The Hindenburg was an airship. She was built in 1936 in Germany. She transported people between Europe and America. The airship was almost 250 meters long, and she was the largest flying machine in the world.
The first flight of the Hindenburg was across the Atlantic to Brazil and she successfully returned. In 1936, she flew to America 17 times. Everything was without problems.
On May 3, 1937, the Hindenburg went on her first spring journey from Germany to the United States. There were 97 people on board. There was a strong wind and the airship was 12 hours delayed, but everything else was OK.
On May 6, 1937, the airship began her landing. During the landing, a fire appeared and the airship crashed. The whole disaster happened very fast, but 62 people managed to survive the crash.
After the disaster, traveling by big airships was stopped.
Difficult words: airship (a big flying machine which is filled with gas), appear (to start to be seen), crash (to have an accident when you hit something very hard).
What caused the Hindenburg to crash?
LEARN 3000 WORDS with DAYS IN LEVELS
Days in Levels is designed to teach you 3000 words in English. Please follow the instructions
below.
How to improve your English with Days in Levels: 

Test
Do the test at Test Languages.
Go to your level. Go to Level 1 if you know 1-1000 words. Go to Level 2 if you know 1000-2000 words. Go to Level 3 if you know 2000-3000 words.

Reading
Read two new articles article at Days in Levels every day.
Read one previous article too and check if you remember all new words.

Listening
Listen to the new article and read the text at the same time.
Listen to the new article without reading the text.

Writing
Answer the question under the new article and write your answer in the comments.