The day of the Great Train Robbery – level 3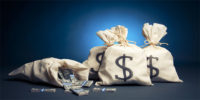 08-08-1963
On August 8, 1963, a train went from Glasgow to London, England. The train carried post or mail and also £2.6 million. At the same time, a gang of 16 men was preparing to rob the train. They prepared a very sophisticated plan.
When the train was going through the fields, they used a false red signal light and made the train stop. Then, they attacked the train. They didn't kill anybody, but they made the train driver take the train to the nearest bridge. They put 128 sacks full of the money in a car that was waiting under the bridge.
After the robbery, the gang hid at a nearby farm. The police started to search every house around the place of the robbery. When the police found the farm, the robbers had already left. However, they left their fingerprints there. Now, the police knew who they were as many of them had been arrested before.
The robbers tried to hide in a different place. However, the police found them all. The leaders were sentenced to 30 years in jail.
Difficult words: rob (to steal money from a place or a person), sophisticated (very good and clever), fingerprint (a mark made by your finger), sentence (to send to prison), jail (a prison).
What methods of communication did the robbers use to coordinate their plan for the train robbery?
LEARN 3000 WORDS with DAYS IN LEVELS
Days in Levels is designed to teach you 3000 words in English. Please follow the instructions
below.
How to improve your English with Days in Levels: 

Test
Do the test at Test Languages.
Go to your level. Go to Level 1 if you know 1-1000 words. Go to Level 2 if you know 1000-2000 words. Go to Level 3 if you know 2000-3000 words.

Reading
Read two new articles article at Days in Levels every day.
Read one previous article too and check if you remember all new words.

Listening
Listen to the new article and read the text at the same time.
Listen to the new article without reading the text.

Writing
Answer the question under the new article and write your answer in the comments.