The day of the first Whitechapel murder – level 2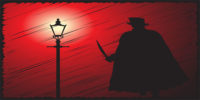 03-04-1888
In 1888, Whitechapel was the worst district in London. It was full of unemployed workers, drunk men, thieves, and prostitutes. The hygienic  conditions were so terrible that half of the children died before they were five years old.
At Whitechapel, more than 1,200 prostitutes waited for their customers every day. On April 3, 1888, one of them was brutally attacked and died in hospital a day later. Another attack happened in four months, when another woman was hit by a knife 39 times.
Five more brutal attacks followed. They were very similar. The attacked women were poor prostitutes, and their bodies were cut open with a knife. People started to believe that the women had to be killed by the same person.
One day, a letter written in red ink arrived at the Central News Agency in London. In it, the author said that he killed those women. He signed the letter as Jack the Ripper.
A total of 11 murders are in this series. They are called Whitechapel murders, but people think that only five of them are the work of Jack the Ripper.
The police never managed to catch the killer.
Difficult words: district (a part of a town), ink (dark blue liquid that people used for writing), murder (the crime when one person kills another).
What were the types of evidence that the police used to try to catch Jack the Ripper?
LEARN 3000 WORDS with DAYS IN LEVELS
Days in Levels is designed to teach you 3000 words in English. Please follow the instructions
below.
How to improve your English with Days in Levels: 

Test
Do the test at Test Languages.
Go to your level. Go to Level 1 if you know 1-1000 words. Go to Level 2 if you know 1000-2000 words. Go to Level 3 if you know 2000-3000 words.

Reading
Read two new articles article at Days in Levels every day.
Read one previous article too and check if you remember all new words.

Listening
Listen to the new article and read the text at the same time.
Listen to the new article without reading the text.

Writing
Answer the question under the new article and write your answer in the comments.