The day of the first US presidential election – level 2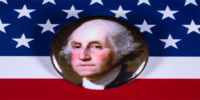 10-01-1789
The first US presidential election started on December 15, 1788. It ended on January 10, 1789. It took so long because the communication between states was very slow. There was no telephone and no telegraph in 1788.
George Washington was extremely popular at that time. He was a successful commander who won a war against England. There was no other candidate who could win.
In 1788, there were only 10 states which formed the US. 69 people were chosen from these states. Then, they could choose the president. All 69 people voted for George Washington. He became the first president of the United States.
Difficult words: election (when people choose somebody for a job or a role), telegraph (a way to talk when you send a message through a wire; the telegraph was before the telephone), commander (a leader in the army), vote (to choose which person you want to be a leader).
How do you think the process of communication has changed since 1788 to improve the election process?
LEARN 3000 WORDS with DAYS IN LEVELS
Days in Levels is designed to teach you 3000 words in English. Please follow the instructions
below.
How to improve your English with Days in Levels: 

Test
Do the test at Test Languages.
Go to your level. Go to Level 1 if you know 1-1000 words. Go to Level 2 if you know 1000-2000 words. Go to Level 3 if you know 2000-3000 words.

Reading
Read two new articles article at Days in Levels every day.
Read one previous article too and check if you remember all new words.

Listening
Listen to the new article and read the text at the same time.
Listen to the new article without reading the text.

Writing
Answer the question under the new article and write your answer in the comments.