The day of the first solo balloon flight around the world – level 3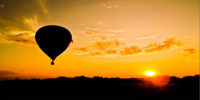 02-07-2002
On January 8, 1996, Steve Fossett took off from South Dakota with his balloon for his first attempt at flying around the world. However, his journey ended in only three days. He tried to fly around the world three more times, but he always failed.
On March 20, 1999, Bertrand Picard and Brian Jones were the first to fly nonstop around the world in a balloon. Their journey lasted 20 days.
Steve Fossett announced that he wanted to be the first to do the same as a single pilot. His fifth attempt failed again because he ran out of oxygen, and he had to stop his flight in Brazil.
In 2002, the sixth attempt came and it was a successful one. He completed his flight on July 2, 2002, in Australia. The landing was rough, but Fossett survived it, like many of his earlier adventures.
Difficult words: attempt (to try to do something difficult), ran out of (to use all of something), rough (very difficult).
What do you think motivated Steve Fossett to keep trying to become the first person to fly around the world alone?
LEARN 3000 WORDS with DAYS IN LEVELS
Days in Levels is designed to teach you 3000 words in English. Please follow the instructions
below.
How to improve your English with Days in Levels: 

Test
Do the test at Test Languages.
Go to your level. Go to Level 1 if you know 1-1000 words. Go to Level 2 if you know 1000-2000 words. Go to Level 3 if you know 2000-3000 words.

Reading
Read two new articles article at Days in Levels every day.
Read one previous article too and check if you remember all new words.

Listening
Listen to the new article and read the text at the same time.
Listen to the new article without reading the text.

Writing
Answer the question under the new article and write your answer in the comments.