The day of the first published photograph of a black hole – level 3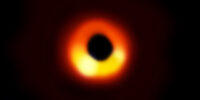 10-04-2019
The first black hole that was photographed is located at the center of the Messier 87 galaxy, which is about 55 million light-years away from Earth.
The photograph was actually a composite of data collected by eight different radio telescopes, including telescopes in Hawaii, Chile, Spain, Mexico, and Antarctica.
Although the photograph was taken in April 2017, it took two years for the team of scientists to process and analyze the data from the telescopes.
The first photograph of a black hole was released on April 10, 2019.
The black hole is 6.5 billion times more massive than the Sun and has a diameter of 40 billion kilometers.
The photograph confirmed Albert Einstein's theory, which predicted the existence of black holes more than a century ago.
Difficult words: composite (one thing made of different things), diameter (a line from one side of a circle to the other going through the center).
What other discoveries or theories can be made by observing and studying black holes?
LEARN 3000 WORDS with DAYS IN LEVELS
Days in Levels is designed to teach you 3000 words in English. Please follow the instructions
below.
How to improve your English with Days in Levels: 

Test
Do the test at Test Languages.
Go to your level. Go to Level 1 if you know 1-1000 words. Go to Level 2 if you know 1000-2000 words. Go to Level 3 if you know 2000-3000 words.

Reading
Read two new articles article at Days in Levels every day.
Read one previous article too and check if you remember all new words.

Listening
Listen to the new article and read the text at the same time.
Listen to the new article without reading the text.

Writing
Answer the question under the new article and write your answer in the comments.