The day of the first published photograph of a black hole – level 1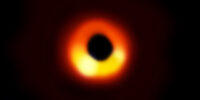 10-04-2019
Messier 87 is a galaxy. It is 55 million light-years away from Earth. Scientists photograph the center of the galaxy. They use eight telescopes. These telescopes are, for example, in Hawaii, Chile, Spain, Mexico, and Antarctica. The scientists see a black hole at the center of the galaxy.
The scientists photograph the black hole in April 2017, but it takes two years to analyze the information from the telescopes.
The scientists publish the first official photograph of a black hole on April 10, 2019.
The black hole is 6.5 billion times bigger than the Sun. It is 40 billion kilometers wide.
One hundred years ago Albert Einstein has a theory about black holes. Now, this theory is true.
Difficult words: telescope (a tool which helps to see things bigger), publish (to make public).
What other predictions did Einstein make about black holes that have since been proven true?
LEARN 3000 WORDS with DAYS IN LEVELS
Days in Levels is designed to teach you 3000 words in English. Please follow the instructions
below.
How to improve your English with Days in Levels: 

Test
Do the test at Test Languages.
Go to your level. Go to Level 1 if you know 1-1000 words. Go to Level 2 if you know 1000-2000 words. Go to Level 3 if you know 2000-3000 words.

Reading
Read two new articles article at Days in Levels every day.
Read one previous article too and check if you remember all new words.

Listening
Listen to the new article and read the text at the same time.
Listen to the new article without reading the text.

Writing
Answer the question under the new article and write your answer in the comments.