The day of the first nonstop flight across the Atlantic – level 1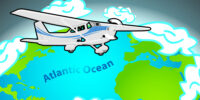 20-05-1927
It is 1919. One businessman in New York wants to give $25,000 to the first person who can fly nonstop from New York to Paris. It is a very difficult thing. Nobody tries to do it for five years. In 1924, the first people try to do it. They aren't successful.
Then 25-year-old Charles Lindbergh comes. He is a pilot. He loves flying. He builds a plane. His plane is very light. He wants to fly to Paris.
It is May 20, 1927. Lindbergh starts his flight from New York to Paris. He has many problems on the way. He flies in fog for many hours. He has to fly above a storm. After 24 hours, he is very tired. He starts to sleep for short moments. Then he continues his flight.
After 33 hours, he lands at an airport in Paris. 150,000 people are waiting for him. They are very happy when they see him.
Difficult words: flight (a journey in a plane), fog (clouds on the ground), above (over), land (to fly down with your plane and stop on the ground).
What challenges did Lindbergh have to overcome in order to complete his 33 hour flight from New York to Paris?
LEARN 3000 WORDS with DAYS IN LEVELS
Days in Levels is designed to teach you 3000 words in English. Please follow the instructions
below.
How to improve your English with Days in Levels: 

Test
Do the test at Test Languages.
Go to your level. Go to Level 1 if you know 1-1000 words. Go to Level 2 if you know 1000-2000 words. Go to Level 3 if you know 2000-3000 words.

Reading
Read two new articles article at Days in Levels every day.
Read one previous article too and check if you remember all new words.

Listening
Listen to the new article and read the text at the same time.
Listen to the new article without reading the text.

Writing
Answer the question under the new article and write your answer in the comments.