The day of the first modern Olympics – level 3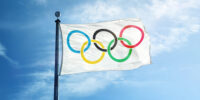 06-04-1896
The first modern Olympics started in Athens, Greece on April 6, 1896, almost 1,500 years after the ancient Olympics were last held in 393 AD.
The Olympics featured 14 countries and 241 athletes, who competed in nine sports. The sports included athletics, cycling, fencing, gymnastics, shooting, swimming, tennis, weightlifting, and wrestling.
The first modern Olympics didn't include any team sports, but they featured some unusual events, such as the 100-meter freestyle for sailors, the 12-hour bicycle race, and the one-handed weightlifting contest. It was won by an athlete from Denmark who lifted a weight of 111.5 kilograms with one hand.
The first modern Olympics were a major success, attracting a crowd of 80,000 people.
Difficult words: fencing (a sport in which people fight with swords), freestyle (a swimming race in which you can use any technique), contest (a competition).
What other unusual events were featured at the first modern Olympics?
LEARN 3000 WORDS with DAYS IN LEVELS
Days in Levels is designed to teach you 3000 words in English. Please follow the instructions
below.
How to improve your English with Days in Levels: 

Test
Do the test at Test Languages.
Go to your level. Go to Level 1 if you know 1-1000 words. Go to Level 2 if you know 1000-2000 words. Go to Level 3 if you know 2000-3000 words.

Reading
Read two new articles article at Days in Levels every day.
Read one previous article too and check if you remember all new words.

Listening
Listen to the new article and read the text at the same time.
Listen to the new article without reading the text.

Writing
Answer the question under the new article and write your answer in the comments.