The day of the first modern Olympics – level 1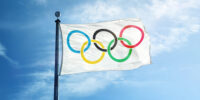 06-04-1896
The first modern Olympics start in Athens, Greece. They start on April 6, 1896. They start 1,500 years after the last Olympics in Greece.
241 athletes come. They are from 14 countries. The sports are athletics, cycling, gymnastics, shooting, swimming, tennis, weightlifting, and wrestling.
Some sports in the Olympics are unusual. For example, there is a 100-meter swimming race for sailors, a 12-hour bicycle race, and weightlifting with one hand.
In the weightlifting competition, the winner lifts a weight of 111 kilograms with one hand.
The first modern Olympics are successful. 80,000 people watch them.
Difficult words: weightlifting (a sport in which people lift heavy things), race (a competition), sailor (a person who works on a ship).
What unique and innovative sports featured in the 1896 Olympics have been taken out of today's Olympic Games?
LEARN 3000 WORDS with DAYS IN LEVELS
Days in Levels is designed to teach you 3000 words in English. Please follow the instructions
below.
How to improve your English with Days in Levels: 

Test
Do the test at Test Languages.
Go to your level. Go to Level 1 if you know 1-1000 words. Go to Level 2 if you know 1000-2000 words. Go to Level 3 if you know 2000-3000 words.

Reading
Read two new articles article at Days in Levels every day.
Read one previous article too and check if you remember all new words.

Listening
Listen to the new article and read the text at the same time.
Listen to the new article without reading the text.

Writing
Answer the question under the new article and write your answer in the comments.