The day of the first Formula One race – level 3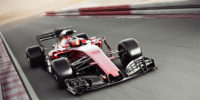 13-05-1950
Car races had been organized since the 1890s. There were championships in individual countries. There was also the idea of a world championship, but the realization of such a championship wasn't successful until World War II.
After World War II, the International Automobile Federation began preparing a series of races in different countries that would become a world championship. The federation published a set of rules that the cars had to meet to participate in the races. The set of rules for the strongest category was named Formula One, the winner of which would become the world champion.
On May 13, 1950, the first Formula One race took place in England. The king and his wife were among the 200,000 excited spectators. It was for the first time in history that the English king personally attended a motor racing event.
Twenty-one drivers with cars of five brands participated in the first race. The race was completely dominated by Italian Alfa Romeo cars. They took all the first three places, and Giuseppe Farina was the winner.
Difficult words: race (a competition in which people want to be the fastest), championship (a big competition to find who is the best in a particular sport), spectator (somebody who is watching a race or a sport), brand (a name which is on all the products from one company).
What other motor racing events have the British Royal Family attended in the past?
LEARN 3000 WORDS with DAYS IN LEVELS
Days in Levels is designed to teach you 3000 words in English. Please follow the instructions
below.
How to improve your English with Days in Levels: 

Test
Do the test at Test Languages.
Go to your level. Go to Level 1 if you know 1-1000 words. Go to Level 2 if you know 1000-2000 words. Go to Level 3 if you know 2000-3000 words.

Reading
Read two new articles article at Days in Levels every day.
Read one previous article too and check if you remember all new words.

Listening
Listen to the new article and read the text at the same time.
Listen to the new article without reading the text.

Writing
Answer the question under the new article and write your answer in the comments.