The day of the first Formula One race – level 1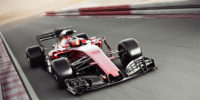 13-05-1950
Car races start in 1895. People have champions in different countries, but there is no world champion.
After World War II, the International Automobile Federation starts to prepare a world championship. The federation writes rules for this championship. These rules are in one document. The name of the document is Formula One.
It is May 13, 1950. The first Formula One race is ready to start. The race is in England. 200,000 people watch the race. The king and his wife watch the race, too.
Twenty-one drivers want to win the race. They have cars from five brands. The best brand is Alfa Romeo. Alfa Romeo cars win the first three places. Giuseppe Farina is the winner.
Difficult words: race (a competition in which people want to be the fastest), champion (a person who wins a competition), championship (a big competition for people who want to be a champion in one sport), brand (a name which is on all the products from one company).
What challenges did the International Automobile Federation face when creating rules and regulations in the early days of Formula One racing?
LEARN 3000 WORDS with DAYS IN LEVELS
Days in Levels is designed to teach you 3000 words in English. Please follow the instructions
below.
How to improve your English with Days in Levels: 

Test
Do the test at Test Languages.
Go to your level. Go to Level 1 if you know 1-1000 words. Go to Level 2 if you know 1000-2000 words. Go to Level 3 if you know 2000-3000 words.

Reading
Read two new articles article at Days in Levels every day.
Read one previous article too and check if you remember all new words.

Listening
Listen to the new article and read the text at the same time.
Listen to the new article without reading the text.

Writing
Answer the question under the new article and write your answer in the comments.