The day of the first episode of The Simpsons – level 1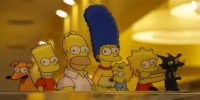 17-12-1989
The Simpsons is a very popular animated sitcom. It is also the name of a family in the show. Their life starts in 1985.
Artist Matt Groening creates the first pictures of the family. He has only fifteen minutes for this job. He creates five people. He uses names from his family.
The name of his father is Homer. Marge is his mother. Lisa and Maggie are his sisters. Only Bart is not from his family. His name is from the word "brat." People change two letters in the word. The word "brat" means "a bad child."
The Simpsons have four fingers and yellow skin. The pictures of The Simpsons are used in a TV show for about four years.
Then on December 17, 1989, people watch the first episode. It is 20 minutes long. The success is very big. Millions of people start to watch The Simpsons. The sitcom is popular in other countries, too.
The Simpsons make jokes about everybody. The producers have a special contract. Thanks to this contract, they can speak about everything without limits.
Difficult words: animated (made from pictures), sitcom (a situation comedy, a funny show about different events), episode (one TV show story from the entire TV show), success (when a lot of people like something), contract (an agreement on what you can do), producer (a person who helps to make a film but who is not a director).
What do you think makes The Simpsons so popular, and why has it become a cultural phenomenon?
LEARN 3000 WORDS with DAYS IN LEVELS
Days in Levels is designed to teach you 3000 words in English. Please follow the instructions
below.
How to improve your English with Days in Levels: 

Test
Do the test at Test Languages.
Go to your level. Go to Level 1 if you know 1-1000 words. Go to Level 2 if you know 1000-2000 words. Go to Level 3 if you know 2000-3000 words.

Reading
Read two new articles article at Days in Levels every day.
Read one previous article too and check if you remember all new words.

Listening
Listen to the new article and read the text at the same time.
Listen to the new article without reading the text.

Writing
Answer the question under the new article and write your answer in the comments.