The day of the fall of Constantinople – level 3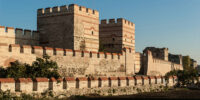 29-05-1453
The fall of Constantinople, today's Istanbul, occurred on May 29, 1453, after a siege of 53 days, when the Ottoman army breached the walls of the city and captured it.
Constantinople had been the capital of the Byzantine Empire for over a thousand years and was one of the most important and wealthiest cities in Europe.
The fall of Constantinople marked the end of the Byzantine Empire, and the beginning of the Ottoman Empire, which became a major world power and lasted until the early 20th century.
Difficult words: siege (a situation when an army blocks a castle or city), breach (to break a hole in a wall), Ottoman Empire (an empire centered in today's Turkey between 14th and 20th century that controlled Southeast Europe, Western Asia and Northern Africa).
What were the long-term geopolitical implications of the fall of Constantinople and the rise of the Ottoman Empire?
LEARN 3000 WORDS with DAYS IN LEVELS
Days in Levels is designed to teach you 3000 words in English. Please follow the instructions
below.
How to improve your English with Days in Levels: 

Test
Do the test at Test Languages.
Go to your level. Go to Level 1 if you know 1-1000 words. Go to Level 2 if you know 1000-2000 words. Go to Level 3 if you know 2000-3000 words.

Reading
Read two new articles article at Days in Levels every day.
Read one previous article too and check if you remember all new words.

Listening
Listen to the new article and read the text at the same time.
Listen to the new article without reading the text.

Writing
Answer the question under the new article and write your answer in the comments.