The day of the biggest protest against the Vietnam War – level 3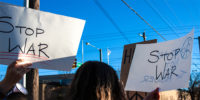 15-11-1969
1969 wasn't a good year for the USA. Coffins with soldiers' bodies kept coming back from Vietnam where Americans were involved in the war. The number of Americans directly affected by the Vietnam War had grown dramatically.
People had had enough. A wave of hatred against the war spread throughout the whole nation. People started to demonstrate to end the war.
On November 15, 1969, more than half a million people gathered in Washington D.C. People marched through the streets demanding one thing: to end the war.
There were demonstrations in other American cities, too. A total of 2 million people took part in demonstrations.
The protests were strong. However, it took three more years for the US army to leave Vietnam.
Difficult words: coffin (a long box for a dead body), hatred (an angry feeling of extreme dislike), spread (to become big and move to many areas), gather (to meet), take part in (to be present at some event).
What impact would the protests have had on the duration of the Vietnam War if they had happened sooner?
LEARN 3000 WORDS with DAYS IN LEVELS
Days in Levels is designed to teach you 3000 words in English. Please follow the instructions
below.
How to improve your English with Days in Levels: 

Test
Do the test at Test Languages.
Go to your level. Go to Level 1 if you know 1-1000 words. Go to Level 2 if you know 1000-2000 words. Go to Level 3 if you know 2000-3000 words.

Reading
Read two new articles article at Days in Levels every day.
Read one previous article too and check if you remember all new words.

Listening
Listen to the new article and read the text at the same time.
Listen to the new article without reading the text.

Writing
Answer the question under the new article and write your answer in the comments.