The day of the biggest protest against the Vietnam War – level 1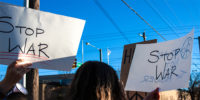 15-11-1969
1969 isn't a good year for the USA. Coffins with dead Americans are coming from Vietnam. Americans are dying there in a war.
People don't like the war. People demonstrate. They want to stop the war.
On November 15, 1969, half a million people meet in Washington D.C., USA. People go through the streets. They want one thing. They want to end the war.
There are demonstrations in other American cities, too. 2 million people demonstrate on that day.
The protests are strong. But the war continues for three more years. Then the Americans leave Vietnam.
Difficult words: coffin (a long box for a dead body), demonstrate (to protest), leave (to go away from).
What do you think were the main strategies used by activists to try to bring an end to the Vietnam War?
LEARN 3000 WORDS with DAYS IN LEVELS
Days in Levels is designed to teach you 3000 words in English. Please follow the instructions
below.
How to improve your English with Days in Levels: 

Test
Do the test at Test Languages.
Go to your level. Go to Level 1 if you know 1-1000 words. Go to Level 2 if you know 1000-2000 words. Go to Level 3 if you know 2000-3000 words.

Reading
Read two new articles article at Days in Levels every day.
Read one previous article too and check if you remember all new words.

Listening
Listen to the new article and read the text at the same time.
Listen to the new article without reading the text.

Writing
Answer the question under the new article and write your answer in the comments.