The day of the Battle of Los Angeles – level 3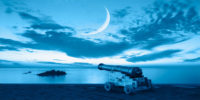 24-02-1942
In early 1942, the United States was at war with Japan after the attack on Pearl Harbor. The Japanese army was strong and they conquered more and more territories in the Pacific. They also attacked the Philippines, Hong Kong, Singapore, and Australia.
All of this raised fears among the Americans who were afraid that the cities on the Pacific coast of the United States could become the next target.
On February 23, 1942, a Japanese submarine emerged near Los Angeles and attacked American oil factories. It was clear that another attack could come at any time. People in Los Angeles started to panic.
The very next night, on February 24, 1942, US military radars detected an unidentifiable object approaching from the west. Warning sirens went off in the city. The soldiers turned off lights in the city and they were preparing for the attack.
Then it all started at about 3 o'clock in the morning. The American soldiers must have seen something in the air because they started firing anti-aircraft grenades. They fired many of them and they continued for a whole hour.
When they stopped, they realized that they didn't shoot down any Japanese aircraft. It was a mystery.
The next morning, people asked what had happened that night. The investigation revealed that there were no Japanese planes over Los Angeles that night. So what did the Americans shoot at?
The government was unable to give a clear explanation. Then a mysterious photograph appeared in the newspapers explaining the possible reason for the attack. At that moment many people formed their own opinion on what was the thing flying over Los Angeles at night. The Americans were firing at a UFO.
Difficult words: conquer (to get control by fighting), raise (to increase), emerge (to appear), unidentifiable (not able to be recognized), approach (to come), go off (to start making a noise), aircraft (a plane), reveal (to show).
What was the mysterious object that the Americans were shooting at?
LEARN 3000 WORDS with DAYS IN LEVELS
Days in Levels is designed to teach you 3000 words in English. Please follow the instructions
below.
How to improve your English with Days in Levels: 

Test
Do the test at Test Languages.
Go to your level. Go to Level 1 if you know 1-1000 words. Go to Level 2 if you know 1000-2000 words. Go to Level 3 if you know 2000-3000 words.

Reading
Read two new articles article at Days in Levels every day.
Read one previous article too and check if you remember all new words.

Listening
Listen to the new article and read the text at the same time.
Listen to the new article without reading the text.

Writing
Answer the question under the new article and write your answer in the comments.