The day of the bankruptcy of Lehman Brothers – level 1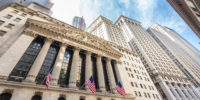 15-09-2008
Lehman Brothers is a big bank in the United States. It invests money into houses. The bank invests 680 billion dollars. The bank has only 22 billion dollars. It is a very risky situation. If the price of houses goes down, the bank can lose all its money.
In 2008, the price of houses goes down. The bank starts to have big financial problems. The management asks the government for help. The government doesn't help.
On September 15, 2008, Lehman Brothers must go bankrupt. It is the biggest bankruptcy in the history of the United States.
Difficult words: invest (to put money into a business), risky (when something bad can happen), government (the leaders of a country), go bankrupt (to be in a situation when you lose your business because you don't have enough money), bankruptcy (a situation when you are bankrupt).
What strategies could Lehman Brothers have taken to avoid bankruptcy in 2008?
LEARN 3000 WORDS with DAYS IN LEVELS
Days in Levels is designed to teach you 3000 words in English. Please follow the instructions
below.
How to improve your English with Days in Levels: 

Test
Do the test at Test Languages.
Go to your level. Go to Level 1 if you know 1-1000 words. Go to Level 2 if you know 1000-2000 words. Go to Level 3 if you know 2000-3000 words.

Reading
Read two new articles article at Days in Levels every day.
Read one previous article too and check if you remember all new words.

Listening
Listen to the new article and read the text at the same time.
Listen to the new article without reading the text.

Writing
Answer the question under the new article and write your answer in the comments.