The day of Hurricane Katrina hit New Orleans – level 3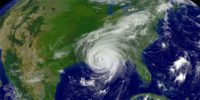 29-08-2005
On August 25, 2005, Hurricane Katrina struck the Florida coast of the United States. 2 million people were without electricity and fourteen people died.
The next day, the hurricane was moving over the waters of the Gulf of Mexico, gaining strength. The coastal states of Mississippi and Louisiana called on residents to evacuate.
On August 29, Katrina struck hard in the city of New Orleans, most of which lay below the level of the nearby lake. Anti-flood barriers were supposed to protect the city, but they were old and weren't built for Katrina's strength.
Tropical rain raised the surface of the lake, and the anti-flood barriers weakened. Water began to pour into the city. It quickly flooded most of the city and in some places reached a height of 6 meters.
Looting began in those parts of the city where the water didn't reach. The government had to send soldiers to the city to calm down the situation.
The pumping out of water and the gradual renewal of the city began. The first people returned at the end of September. However, some never returned. They didn't want to live in a place where a similar disaster could happen again.
Katrina claimed 1,800 lives.
Difficult words: struck (to hit hard), gain (to get), be supposed to (should), loot (to steal from shops after a disaster), renewal (the process of repairing).
What measures have been taken by local and civil governments to safeguard against similar catastrophic events in the future?
LEARN 3000 WORDS with DAYS IN LEVELS
Days in Levels is designed to teach you 3000 words in English. Please follow the instructions
below.
How to improve your English with Days in Levels: 

Test
Do the test at Test Languages.
Go to your level. Go to Level 1 if you know 1-1000 words. Go to Level 2 if you know 1000-2000 words. Go to Level 3 if you know 2000-3000 words.

Reading
Read two new articles article at Days in Levels every day.
Read one previous article too and check if you remember all new words.

Listening
Listen to the new article and read the text at the same time.
Listen to the new article without reading the text.

Writing
Answer the question under the new article and write your answer in the comments.