The day of Hurricane Katrina hit New Orleans – level 1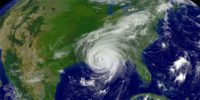 29-08-2005
It is August 29, 2005. Hurricane Katrina comes to New Orleans. New Orleans is near a lake. The city is below the level of the lake.
Anti-flood barriers protect the city. The barriers are old and weak. Katrina is very strong.
The rain from Katrina brings a lot of water to the lake. The anti-flood barriers open. Water starts to go into the city. Many places are underwater. The water is 6 meters high.
Some people start to steal from shops. The army must come. The army helps people in New Orleans.
1,800 people die in Hurricane Katrina.
Difficult words: below (under), flood (a situation when water is in the streets of a city), steal (to take food from a shop and not pay).
What measures could have been taken to prevent the catastrophic damage caused by Hurricane Katrina?
LEARN 3000 WORDS with DAYS IN LEVELS
Days in Levels is designed to teach you 3000 words in English. Please follow the instructions
below.
How to improve your English with Days in Levels: 

Test
Do the test at Test Languages.
Go to your level. Go to Level 1 if you know 1-1000 words. Go to Level 2 if you know 1000-2000 words. Go to Level 3 if you know 2000-3000 words.

Reading
Read two new articles article at Days in Levels every day.
Read one previous article too and check if you remember all new words.

Listening
Listen to the new article and read the text at the same time.
Listen to the new article without reading the text.

Writing
Answer the question under the new article and write your answer in the comments.