The day North Korea conquered Seoul – level 1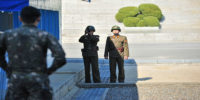 28-06-1950
After World War II, Korea has two parts. These parts are North Korea and South Korea. Both countries want to control the whole of Korea.
It is June 25, 1950. 175,000 soldiers from North Korea go to South Korea. South Korea has only 100,000 soldiers. North Korea has better weapons. North Korea is stronger. On June 28, North Korean soldiers start to control the capital of Seoul.
Americans come and they help South Korea. The Americans prepare a counterattack. On 25 September, Seoul is free again.
Then, the Americans push the North Korean army to the mountains in the north next to the border with China. The Chinese army is waiting at the border. The Chinese army helps North Korea. Seoul is lost again. Then, the Americans push the Chinese back.
The war is 3 years long. On July 27, 1953, both countries stop the war. They control the same parts of Korea as before the war.
Difficult words: both (two), weapon (a knife, bomb, or gun), capital (an important city with a government), counterattack (an attack against people who attack you), border (a line between two countries).
How did the Korean War shape the geopolitical landscape of East Asia?
LEARN 3000 WORDS with DAYS IN LEVELS
Days in Levels is designed to teach you 3000 words in English. Please follow the instructions
below.
How to improve your English with Days in Levels: 

Test
Do the test at Test Languages.
Go to your level. Go to Level 1 if you know 1-1000 words. Go to Level 2 if you know 1000-2000 words. Go to Level 3 if you know 2000-3000 words.

Reading
Read two new articles article at Days in Levels every day.
Read one previous article too and check if you remember all new words.

Listening
Listen to the new article and read the text at the same time.
Listen to the new article without reading the text.

Writing
Answer the question under the new article and write your answer in the comments.