The day Nelson Mandela became president – level 1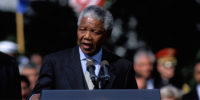 10-05-1994
Nelson Mandela is born in South Africa in 1918. White people in South Africa are rich. Black people are poor. Both groups have different rights. There are separated restaurants, hospitals, and schools. The black people have no right to vote.
Mandela wants to change the situation. He organizes peaceful demonstrations.
After some time, Mandela understands that peaceful demonstrations can't change much. He starts to work with people who fight with weapons. He is arrested. He goes to prison.
He comes out of prison after 27 years. He continues his work. Now his work is peaceful. He wants to bring democracy to South Africa. He is successful.
In 1994, all people in South Africa can vote. On May 10, 1994, Mandela is president of South Africa.
Difficult words: right (what you can do), separated (not together), vote (to choose people for your government), peaceful (without fighting), arrested (when the police catch somebody).
What actions taken by Mandela do you feel had the greatest impact in achieving democracy for South Africa?
LEARN 3000 WORDS with DAYS IN LEVELS
Days in Levels is designed to teach you 3000 words in English. Please follow the instructions
below.
How to improve your English with Days in Levels: 

Test
Do the test at Test Languages.
Go to your level. Go to Level 1 if you know 1-1000 words. Go to Level 2 if you know 1000-2000 words. Go to Level 3 if you know 2000-3000 words.

Reading
Read two new articles article at Days in Levels every day.
Read one previous article too and check if you remember all new words.

Listening
Listen to the new article and read the text at the same time.
Listen to the new article without reading the text.

Writing
Answer the question under the new article and write your answer in the comments.