The day Nautilus traveled under the North Pole – level 1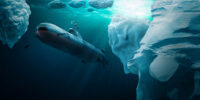 03-08-1958
Nautilus is a US submarine. Its name is the same as the name of the submarine from a famous book by Jules Verne.
In 1958, the submarine wants to go to the North Pole. The journey starts in Hawaii in the Pacific Ocean. The submarine travels north to the place where the ice starts, and then it goes under the ice. On August 3, 1958, Nautilus reaches the North Pole. It is the first submarine which reaches the North Pole.
The journey under the ice is 2,940 km long and it takes 96 hours.
The submarine then continues to the Atlantic Ocean, and it emerges near Greenland.
Difficult words: submarine (a machine for traveling under water), reach (to get to some place), emerge (to go above water).
What is the name of the famous book by Jules Verne involving a submarine?
LEARN 3000 WORDS with DAYS IN LEVELS
Days in Levels is designed to teach you 3000 words in English. Please follow the instructions
below.
How to improve your English with Days in Levels: 

Test
Do the test at Test Languages.
Go to your level. Go to Level 1 if you know 1-1000 words. Go to Level 2 if you know 1000-2000 words. Go to Level 3 if you know 2000-3000 words.

Reading
Read two new articles article at Days in Levels every day.
Read one previous article too and check if you remember all new words.

Listening
Listen to the new article and read the text at the same time.
Listen to the new article without reading the text.

Writing
Answer the question under the new article and write your answer in the comments.