The day NATO was founded – level 3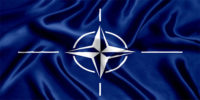 04-04-1949
At the end of World War II, Berlin was divided into two parts. In June 1948, the Soviets who controlled the eastern part of the city closed the railway access to the western part of the city. They wanted to gain control over its supplies and thus control the entire city. It was a beginning of a new war which people started calling the Cold War.
The Americans, the British, and the French who controlled the western part of the city responded to the blockade by an air bridge. Every minute, a supply plane landed at the airport in West Berlin. The planes were full of food and other necessities. The blockade lasted almost a year, but the West managed to keep supplying their part of the city.
However, it was clear that the Soviet Union already dominated Europe militarily and the West had no effective opposing force to the Soviets.
Thus, on April 4, 1949, NATO was founded in Washington. The founding members were 10 countries in Europe, the USA, and Canada. NATO was a military alliance. It meant that an attack on any of the members was considered an attack on all countries.
Interestingly, until the end of the Cold War in 1991, NATO didn't have to take a single military action.
Difficult words: supplies (food, clothes, and other necessary things for daily life), thus (therefore), blockage (something that is stopping movement), the West (Western Europe and North America), founded (started), alliance (an agreement to help each other).
What was the primary purpose of NATO when it was founded in 1949?
LEARN 3000 WORDS with DAYS IN LEVELS
Days in Levels is designed to teach you 3000 words in English. Please follow the instructions
below.
How to improve your English with Days in Levels: 

Test
Do the test at Test Languages.
Go to your level. Go to Level 1 if you know 1-1000 words. Go to Level 2 if you know 1000-2000 words. Go to Level 3 if you know 2000-3000 words.

Reading
Read two new articles article at Days in Levels every day.
Read one previous article too and check if you remember all new words.

Listening
Listen to the new article and read the text at the same time.
Listen to the new article without reading the text.

Writing
Answer the question under the new article and write your answer in the comments.