The day NATO was founded – level 1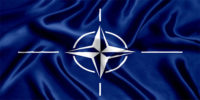 04-04-1949
After World War II, Berlin has two parts. There is the western part and the eastern part. The Soviets control the eastern part.
In 1948, the Soviets start to block the western part of Berlin. Trains can't go to West Berlin., People in West Berlin still need food and other important things.
The Americans, the British, and the French have a plan to help West Berlin. They make an air bridge. They send many planes every day to West Berlin. The planes bring food and other important things.
The Soviets block the city for a year. the West still continues with the air bridge. Then, the Soviets stop the block.
After this incident, the West understands that the Soviets are very strong in Europe. The West needs some opposition to the Soviets.
On April 4, 1949, NATO is founded in Washington. NATO is founded by 10 countries in Europe, the USA, and Canada. NATO is an organization for help during a war. If somebody attacks one country in NATO, all other countries come to help.
It is interesting that from 1949 to 1991, NATO doesn't need to fight in a war.
Difficult words: Soviets (people in the Soviet Union), the West (Western Europe and North America), incident (an important moment), opposition (the people who are against you), founded (started).
What impact did NATO have on Europe during the Cold War?
LEARN 3000 WORDS with DAYS IN LEVELS
Days in Levels is designed to teach you 3000 words in English. Please follow the instructions
below.
How to improve your English with Days in Levels: 

Test
Do the test at Test Languages.
Go to your level. Go to Level 1 if you know 1-1000 words. Go to Level 2 if you know 1000-2000 words. Go to Level 3 if you know 2000-3000 words.

Reading
Read two new articles article at Days in Levels every day.
Read one previous article too and check if you remember all new words.

Listening
Listen to the new article and read the text at the same time.
Listen to the new article without reading the text.

Writing
Answer the question under the new article and write your answer in the comments.