The day Mount St. Helens erupts – level 3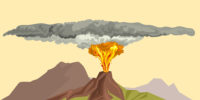 18-05-1980
On March 15, 1980, several small earthquakes indicated that magma may have begun moving below Mount St. Helens, US.
Increasingly strong tremors alarmed geologists, and they prompted Governor Dixy Lee Ray to declare a state of emergency on April 3. On May 18, a magnitude 5.1 earthquake centered directly below the volcano triggered a part of the volcano to slide. The landslide traveled at 180 to 250 kmph and it was the largest landslide ever recorded. It filled the valley of the Toutle River with up to 180-meter-deep avalanche debris.
Explosions burst through the trailing part of the landslide and they consisted of very hot volcanic gases, ash and lava. The blast knocked down about 600 square kilometers of forest and the ash column grew to a height of 20 kilometers. The eruption killed 57 people, and it destroyed 200 houses, 27 bridges, and 300 kilometers of roads.
Difficult words: magma (very hot fluid material below the Earth's crust), tremor (a small earthquake or shaking), column (a vertical arrangement of something).
What were the effects of ashfall as a result of the eruption of Mount St. Helens?
LEARN 3000 WORDS with DAYS IN LEVELS
Days in Levels is designed to teach you 3000 words in English. Please follow the instructions
below.
How to improve your English with Days in Levels: 

Test
Do the test at Test Languages.
Go to your level. Go to Level 1 if you know 1-1000 words. Go to Level 2 if you know 1000-2000 words. Go to Level 3 if you know 2000-3000 words.

Reading
Read two new articles article at Days in Levels every day.
Read one previous article too and check if you remember all new words.

Listening
Listen to the new article and read the text at the same time.
Listen to the new article without reading the text.

Writing
Answer the question under the new article and write your answer in the comments.