The day Mount St. Helens erupts – level 1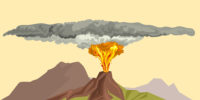 18-05-1980
Mount St. Helens is a volcano. It is in the US. It erupts in March 1980. It is one of the biggest disasters in US history.
Small earthquakes happen near Mount St. Helens before the eruption. Scientists worry. They think that the volcano will erupt. People must not come close to the volcano. It is very dangerous.
A big earthquake happens on May 18. It happens below the volcano. A part of the volcano starts to move. It moves very fast.
Hot gas and lava come out from the volcano. The volcano erupts. About 600 square kilometers of forest burn. 57 people die. The eruption destroys 200 houses.
Difficult words: disaster (when something very bad happens), eruption (when a volcano becomes active), lava (very got rock which flows out from a volcano).
What are some of the preventative measures taken by scientists and local officials to protect people near Mount St. Helens in the event of an eruption?
LEARN 3000 WORDS with DAYS IN LEVELS
Days in Levels is designed to teach you 3000 words in English. Please follow the instructions
below.
How to improve your English with Days in Levels: 

Test
Do the test at Test Languages.
Go to your level. Go to Level 1 if you know 1-1000 words. Go to Level 2 if you know 1000-2000 words. Go to Level 3 if you know 2000-3000 words.

Reading
Read two new articles article at Days in Levels every day.
Read one previous article too and check if you remember all new words.

Listening
Listen to the new article and read the text at the same time.
Listen to the new article without reading the text.

Writing
Answer the question under the new article and write your answer in the comments.