The day Michael Jackson died – level 2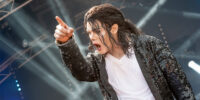 25-06-2009
Michael Jackson died on June 25, 2009, at the age of 50, in Los Angeles.
The official report said that he died because he took too many sleeping drugs.
Many people all around the world were very sad.
Jackson's death also caused a lot of internet traffic. Some websites crashed because of the high volume of users who were searching for news about the pop star's death.
In the week after Jackson's death, sales of his music went extremely high because many fans wanted to buy the music of this legendary musician.
Difficult words: crash (to suddenly stop working), sales (all the products which a company sells during some time).
What do you think is the most significant way in which Michael Jackson's death impacted the world?
LEARN 3000 WORDS with DAYS IN LEVELS
Days in Levels is designed to teach you 3000 words in English. Please follow the instructions
below.
How to improve your English with Days in Levels: 

Test
Do the test at Test Languages.
Go to your level. Go to Level 1 if you know 1-1000 words. Go to Level 2 if you know 1000-2000 words. Go to Level 3 if you know 2000-3000 words.

Reading
Read two new articles article at Days in Levels every day.
Read one previous article too and check if you remember all new words.

Listening
Listen to the new article and read the text at the same time.
Listen to the new article without reading the text.

Writing
Answer the question under the new article and write your answer in the comments.