The day McDonald's was founded – level 3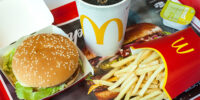 15-05-1940
The original McDonald's restaurant was opened in California on May 15, 1940 by Richard and Maurice McDonald.
The brothers developed a fast-food production system that became a model for the modern fast-food industry.
The original McDonald's menu offered only nine items: hamburger, cheeseburger, potato chips, soft drink, milkshake, Coke, milk, coffee and orange drink.
In 1954, Ray Kroc, a milkshake machine salesman visited their restaurant. Kroc was impressed by the system used in the McDonald's restaurant. He convinced the McDonald brothers to let him franchise their concept and help expand the business.
The first franchised McDonald's restaurant was opened in 1955 and sold 15-cent hamburgers, 10-cent chips, and 20-cent shakes.
By 1961, there were over 200 McDonald's restaurants in the United States.
Difficult words: convince (to persuade), franchise (to give permission to run the same business).
What are some of the new menu items that McDonald's has introduced since its creation in 1940?
LEARN 3000 WORDS with DAYS IN LEVELS
Days in Levels is designed to teach you 3000 words in English. Please follow the instructions
below.
How to improve your English with Days in Levels: 

Test
Do the test at Test Languages.
Go to your level. Go to Level 1 if you know 1-1000 words. Go to Level 2 if you know 1000-2000 words. Go to Level 3 if you know 2000-3000 words.

Reading
Read two new articles article at Days in Levels every day.
Read one previous article too and check if you remember all new words.

Listening
Listen to the new article and read the text at the same time.
Listen to the new article without reading the text.

Writing
Answer the question under the new article and write your answer in the comments.