The day Martin Luther King was killed – level 3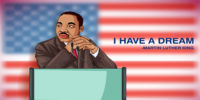 04-04-1968
In 1955, slavery hadn't existed in the United States for 90 years, but society, especially in the south, was still strictly divided for whites and blacks. There were separate restaurants, toilets, and department stores. There were also special rules for whites and blacks in public transport.
Martin Luther King, a 26-year-old young man, began to convince the blacks that a fight was needed, but not as usual, by violence and looting. He came up with something completely new—non-violent protests.
Thousands of black people crowded the streets every day, walking, cycling, but not using public transport. It was their form of protest. They demanded the abolition of racist rules. It took a whole year. Then the rules were abolished. King celebrated his first major victory.
Another success came in 1963. At that time, King organized a mass march to Washington where he gave his most famous speech "I have a dream" to nearly a quarter of a million people. It was considered one of the greatest speeches in American history.
King managed to change America. In 1964, the Senate adopted a law guaranteeing equal rights for all people. In the same year, King received the Nobel Peace Prize.
In the spring of 1968, he went to Memphis where he gave another speech. The next day, on April 4, 1968, he went out on the balcony of the motel where he was staying. A moment later, a bullet fired by his killer hit him in the neck. He died one hour later in hospital.
Difficult words: convince (to persuade somebody to do something), loot (to steal from shops during protests), abolition (when a law is ended), mass (with a lot of people), adopt (to formally approve).
What do you think about this day?
LEARN 3000 WORDS with DAYS IN LEVELS
Days in Levels is designed to teach you 3000 words in English. Please follow the instructions
below.
How to improve your English with Days in Levels: 

Test
Do the test at Test Languages.
Go to your level. Go to Level 1 if you know 1-1000 words. Go to Level 2 if you know 1000-2000 words. Go to Level 3 if you know 2000-3000 words.

Reading
Read two new articles article at Days in Levels every day.
Read one previous article too and check if you remember all new words.

Listening
Listen to the new article and read the text at the same time.
Listen to the new article without reading the text.

Writing
Answer the question under the new article and write your answer in the comments.