The day Lego started – level 2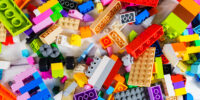 10-08-1932
Lego was started on August 10, 1932, in Denmark by Ole Kirk Christiansen.
The name Lego comes from the Danish words "leg godt," which mean "play well."
At the beginning, the company produced wooden toys.
In 1958, Lego introduced the special bricks which fit together perfectly. They could be used to build many different things.
The bricks made the company famous, and Lego became one of the world's biggest toy producers. Lego sells products in more than 130 countries.
The largest Lego tower ever built was 35 meters tall and was constructed in Milan, Italy in 2015. It used over half a million bricks and took five days to build.
Difficult words: mean (to have a meaning), brick (a hard block used for building walls), fit (to be the right size to go somewhere).
What other structures have been built using Lego bricks?
LEARN 3000 WORDS with DAYS IN LEVELS
Days in Levels is designed to teach you 3000 words in English. Please follow the instructions
below.
How to improve your English with Days in Levels: 

Test
Do the test at Test Languages.
Go to your level. Go to Level 1 if you know 1-1000 words. Go to Level 2 if you know 1000-2000 words. Go to Level 3 if you know 2000-3000 words.

Reading
Read two new articles article at Days in Levels every day.
Read one previous article too and check if you remember all new words.

Listening
Listen to the new article and read the text at the same time.
Listen to the new article without reading the text.

Writing
Answer the question under the new article and write your answer in the comments.