The day John Lennon was murdered – level 3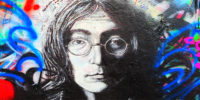 07-12-1941
John Lennon is a famous singer and songwriter from the Beatles. In 1980, he lives in New York. A 25-year-old man arrives from Hawaii to meet Lennon. The man suffers from mental health problems. He buys Lennon's latest album and wants to have it signed.
The man has been waiting for Lennon for 10 days and they finally meet on December 8 in the afternoon. They meet in front of Lennon's house in New York where Lennon signs the album for the man.
Six hours later, the man returns to the same place. He is waiting for Lennon again. When Lennon comes home at 11 p.m., a voice calls to him from the darkness. Before Lennon is able to turn around, he is hit by 5 bullets. He dies in a few minutes.
At that moment, the story of one of the greatest legends of all time ends. After the murder, the murderer sits quietly on the sidewalk waiting for the police to arrive. He is reading a book.
The murderer pleads guilty and gets a life sentence.
Difficult words: murder (the crime when one person kills another), murderer (someone who murders another person), plead guilty (to say that you are guilty of a crime), sentence (a punishment for somebody who is guilty of a crime).
What do you think about this day?
LEARN 3000 WORDS with DAYS IN LEVELS
Days in Levels is designed to teach you 3000 words in English. Please follow the instructions
below.
How to improve your English with Days in Levels: 

Test
Do the test at Test Languages.
Go to your level. Go to Level 1 if you know 1-1000 words. Go to Level 2 if you know 1000-2000 words. Go to Level 3 if you know 2000-3000 words.

Reading
Read two new articles article at Days in Levels every day.
Read one previous article too and check if you remember all new words.

Listening
Listen to the new article and read the text at the same time.
Listen to the new article without reading the text.

Writing
Answer the question under the new article and write your answer in the comments.