The day John Adams moved into White House – level 2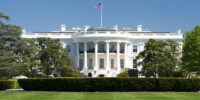 01-11-1800
On November 1, 1800, President John Adams moved into the newly constructed President's House. This building is known today as the White House.
The White House is still the official residence and office of the President of the United States and where his family also lives. It is located in Washington, D.C. It covers an area of over 5,100 square meters and stands on a land of more than seven hectares.
Today, the White House also has a medical office, a dental office, a television studio, a solarium, a swimming pool and a shelter against nuclear bombs.
The White House has 132 rooms, three kitchens, 35 bathrooms, and 16 bedrooms. The most famous room is the Oval Office. It is the official office of the President of the USA.
The White House is visited by 30,000 visitors a week.
Difficult words: residence (a place where somebody lives), cover (to be over an area), hectare (10,000 square metres), solarium (a room where you can see the sun easily), shelter (a place where people are protected from danger), oval (elliptical).
What other remarkable features are present in the White House besides the Oval Office?
LEARN 3000 WORDS with DAYS IN LEVELS
Days in Levels is designed to teach you 3000 words in English. Please follow the instructions
below.
How to improve your English with Days in Levels: 

Test
Do the test at Test Languages.
Go to your level. Go to Level 1 if you know 1-1000 words. Go to Level 2 if you know 1000-2000 words. Go to Level 3 if you know 2000-3000 words.

Reading
Read two new articles article at Days in Levels every day.
Read one previous article too and check if you remember all new words.

Listening
Listen to the new article and read the text at the same time.
Listen to the new article without reading the text.

Writing
Answer the question under the new article and write your answer in the comments.