The day Joan of Arc won in Orléans – level 3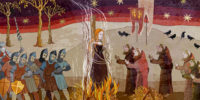 07-05-1429
It's the beginning of the 15th century. In France, there is a war between France and England. The English go from victory to victory. They have conquered all of northern France, including Paris.
Orléans is an important town south of Paris. The English want to get control over Orléans. King of France, Charles VII, knows that he must defend Orléans. If Charles loses the town, all of France will fall to the English hands.
At that time, Charles is visited by Joan of Arc. Joan is a sixteen-year-old girl who grew up in a French village. She can't read or write. However, since she was 13, she has had visions of angels. They told her that under her leadership, France would win the war.
Charles believes the young girl. He gives her armor and a horse and sends her to Orléans, which has been surrounded by the English for seven months. However, the blockade is not perfect and Joan manages to get into the town. People of Orléans welcome her as their savior. They believe that she was chosen by God to save France.
Joan has a strong faith in victory. Her faith affects the soldiers in the town. The French begin to dominate, and on May 7, 1429, the town is free. Joan of Arc immediately becomes a national heroine.
Difficult words: armor (metal clothes used in battles), surround (to be around something), savior (somebody who saves others), faith (a strong belief), heroine (a woman who does brave things).
What influence did Joan of Arc have on the French soldiers in Orléans to cause them to gain victory?
LEARN 3000 WORDS with DAYS IN LEVELS
Days in Levels is designed to teach you 3000 words in English. Please follow the instructions
below.
How to improve your English with Days in Levels: 

Test
Do the test at Test Languages.
Go to your level. Go to Level 1 if you know 1-1000 words. Go to Level 2 if you know 1000-2000 words. Go to Level 3 if you know 2000-3000 words.

Reading
Read two new articles article at Days in Levels every day.
Read one previous article too and check if you remember all new words.

Listening
Listen to the new article and read the text at the same time.
Listen to the new article without reading the text.

Writing
Answer the question under the new article and write your answer in the comments.