The day Joan of Arc won in Orléans – level 1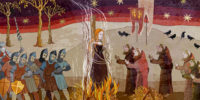 07-05-1429
It's the beginning of the 15th century in France. There is a war between France and England. The English go from victory to victory. They control northern France. They control Paris, too.
Orléans is an important town south of Paris. The English go to Orléans. The English are already near the town.
King of France, Charles VII, knows that he can't lose Orléans. If Charles loses the town, he loses all of France.
At that time, Joan of Arc visits Charles. Joan is sixteen years old. She is from a village. She can't read or write. She sees angels. The angels tell her that she can lead the French army. She can win the war.
Charles believes the young girl. He gives her a weapon and a horse. He sends her to Orléans. People in Orléans are happy when they see her. They believe that she is from God. They believe that she can save France.
Joan has a strong belief in victory. The French soldiers start to believe, too. On May 7, 1429, the French win.
Difficult words: victory (a situation when you win), angel (a person with wings), lead (to be a leader), weapon (a thing which you use in a fight), belief (a feeling that something is true).
What inspired Joan of Arc to lead the French army to victory against the English?
LEARN 3000 WORDS with DAYS IN LEVELS
Days in Levels is designed to teach you 3000 words in English. Please follow the instructions
below.
How to improve your English with Days in Levels: 

Test
Do the test at Test Languages.
Go to your level. Go to Level 1 if you know 1-1000 words. Go to Level 2 if you know 1000-2000 words. Go to Level 3 if you know 2000-3000 words.

Reading
Read two new articles article at Days in Levels every day.
Read one previous article too and check if you remember all new words.

Listening
Listen to the new article and read the text at the same time.
Listen to the new article without reading the text.

Writing
Answer the question under the new article and write your answer in the comments.