The day Israeli people in Uganda were freed – level 1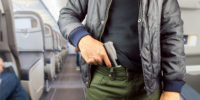 04-07-1976
It is June 27, 1976. A plane flies from Athens to Paris. There are 248 passengers on the plane. Many passengers are from Israel. There are also four hijackers on the plane. The hijackers start to control the plane. The pilots must fly to Libya.
From Libya, the plane flies to Uganda. In Uganda, the hijackers put the passengers into a big hall at the airport. The hijackers want something from Israel. They want to free 53 pro-Palestinian fighters from prison.
Israel sends 4 big planes with Israeli soldiers to Uganda. The planes land at the airport in Uganda. The Israeli soldiers fight with Ugandan soldiers. The Israeli soldiers win.
The Israeli soldiers free the passengers. Then, they take the passengers back to Israel. The whole event is 53 minutes long.
Difficult words: passenger (a person in a plane), hijacker (a person who controls a plane by force), fighter (a person who fights), whole (all).
What do you think about this day?
LEARN 3000 WORDS with DAYS IN LEVELS
Days in Levels is designed to teach you 3000 words in English. Please follow the instructions
below.
How to improve your English with Days in Levels: 

Test
Do the test at Test Languages.
Go to your level. Go to Level 1 if you know 1-1000 words. Go to Level 2 if you know 1000-2000 words. Go to Level 3 if you know 2000-3000 words.

Reading
Read two new articles article at Days in Levels every day.
Read one previous article too and check if you remember all new words.

Listening
Listen to the new article and read the text at the same time.
Listen to the new article without reading the text.

Writing
Answer the question under the new article and write your answer in the comments.