The day Hitler survived an assassination attempt – level 2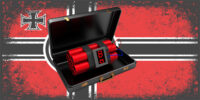 20-07-1944
In the summer of 1944, Hitler was at war with most of the world. Big armies stood against him, and Germany was gradually losing the war.
Some people in Germany understood that the war was lost and they wanted to end it. However, they had to remove Hitler first if they wanted to bring a change.
One of these people was Claus Schenk von Stauffenberg. He was 37 years old, and he originally agreed with Hitler's ideas. However, everything changed when he saw how people suffered in the war. He was also badly injured in Africa. He lost his eye, his right hand, and two fingers on his left hand.
After his injuries, Stauffenberg stayed in the army, and he had access to meetings with Hitler.
On July 20, 1944, he hid a bomb into his briefcase and he brought the briefcase to a meeting with Hitler. At the meeting, he put the briefcase under the table near Hitler. Some minutes later, he said that he needed to leave the room.
After he left the room, another army officer pushed the briefcase behind a heavy conference table leg. Then an explosion came. The explosion was very big.
Stauffenberg was sure that everybody in the room was dead, but only 4 people died. Hitler wasn't one of them. He had only little injuries because the heavy table leg protected him from the explosion.
Difficult words: remove (to take somebody from an important position), originally (in the beginning), access (a possibility to enter a place), briefcase (a bag for businessmen).
What do you think were the consequences for Stauffenberg for his failed attempt to assassinate Hitler?
LEARN 3000 WORDS with DAYS IN LEVELS
Days in Levels is designed to teach you 3000 words in English. Please follow the instructions
below.
How to improve your English with Days in Levels: 

Test
Do the test at Test Languages.
Go to your level. Go to Level 1 if you know 1-1000 words. Go to Level 2 if you know 1000-2000 words. Go to Level 3 if you know 2000-3000 words.

Reading
Read two new articles article at Days in Levels every day.
Read one previous article too and check if you remember all new words.

Listening
Listen to the new article and read the text at the same time.
Listen to the new article without reading the text.

Writing
Answer the question under the new article and write your answer in the comments.