The day Hitler survived an assassination attempt – level 1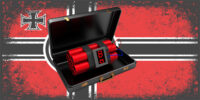 20-07-1944
It is summer 1944. The German army is not very strong. Some people in Germany understand that the war is lost. They want to end the war. Hitler doesn't want to end the war.
The people who want to end the war decide to kill Hitler. Claus Schenk von Stauffenberg is one of these people. He is 37 years old. He is in the army. He works for Hitler. He goes to meetings with Hitler.
It is July 20, 1944. Stauffenberg puts a bomb into his briefcase. He takes the briefcase to the meeting with Hitler. At the meeting, he puts the briefcase under the table near Hitler. Then, he leaves the room.
When he leaves the room, one man pushes the briefcase behind a heavy table leg. Then an explosion comes. The explosion is very big.
Stauffenberg thinks that everybody in the room is dead. Only 4 people die. Hitler isn't one of them. Hitler survives because the heavy table leg protects him from the explosion.
Difficult words: decide (to make a decision), briefcase (a bag for businessmen), behind (after), survive (to continue to live after an accident).
What might have been the consequences if Hitler had been killed on July 20, 1944?
LEARN 3000 WORDS with DAYS IN LEVELS
Days in Levels is designed to teach you 3000 words in English. Please follow the instructions
below.
How to improve your English with Days in Levels: 

Test
Do the test at Test Languages.
Go to your level. Go to Level 1 if you know 1-1000 words. Go to Level 2 if you know 1000-2000 words. Go to Level 3 if you know 2000-3000 words.

Reading
Read two new articles article at Days in Levels every day.
Read one previous article too and check if you remember all new words.

Listening
Listen to the new article and read the text at the same time.
Listen to the new article without reading the text.

Writing
Answer the question under the new article and write your answer in the comments.