The day Hitler attacked the Soviet Union – level 2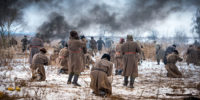 22-06-1941
On June 22, 1941, German planes dropped the first bombs on Soviet cities. Then 3 million German soldiers entered the Soviet Union.
The Germans wanted to get control of three key places. In the north, the main target was the city of Leningrad. In the middle it was Moscow. In the south, the Germans wanted to reach the oil fields at the Caspian Sea.
In the beginning, the Germans advanced very quickly, but as they went further inside the Soviet Union, they were slowing down. At one point, they stopped their advance completely and couldn't get further.
The Germans controlled some parts of Russia for some time, but they weren't able to get to Leningrad and Moscow. They also didn't reach the oil fields near the Caspian Sea.
In 1943, the situation started to change, and it was the Russians who started to be stronger and pushed the Germans back. The Germans were losing more and more land. The Russians continued their advance, and in May 1945, the Russians finally came to Berlin.
Difficult words: drop (to send down), main (most important), advance (to move forward), further (more far).
What were the key strategies that enabled Russia to successfully repel Germany's advances in 1943 and beyond?
LEARN 3000 WORDS with DAYS IN LEVELS
Days in Levels is designed to teach you 3000 words in English. Please follow the instructions
below.
How to improve your English with Days in Levels: 

Test
Do the test at Test Languages.
Go to your level. Go to Level 1 if you know 1-1000 words. Go to Level 2 if you know 1000-2000 words. Go to Level 3 if you know 2000-3000 words.

Reading
Read two new articles article at Days in Levels every day.
Read one previous article too and check if you remember all new words.

Listening
Listen to the new article and read the text at the same time.
Listen to the new article without reading the text.

Writing
Answer the question under the new article and write your answer in the comments.