The day Hitler attacked the Soviet Union – level 1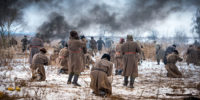 22-06-1941
It is June 22, 1941. German planes fly to Russia. The planes send bombs on cities in Russia. On the ground, 3 million German soldiers go to Russia.
The Germans want to control three important places. They want to control Leningrad, Moscow, and the oil fields at the Caspian Sea.
In the beginning, the Germans go very quickly. After some time, they meet more and more Russians. The Russians fight back. They stop the German soldiers. The Germans can't continue. Leningrad, Moscow, and the oil fields are safe.
In 1943, the situation starts to change because the Russians start to be very strong. The Russians push the Germans back to Germany.
In May 1945, the Russians come to Berlin. The Russians win the war.
Difficult words: oil (the black material which people get from under the ground), safe (not in danger).
What impact did the Russian Army's resistance to the German invasion have on the outcome of World War II?
LEARN 3000 WORDS with DAYS IN LEVELS
Days in Levels is designed to teach you 3000 words in English. Please follow the instructions
below.
How to improve your English with Days in Levels: 

Test
Do the test at Test Languages.
Go to your level. Go to Level 1 if you know 1-1000 words. Go to Level 2 if you know 1000-2000 words. Go to Level 3 if you know 2000-3000 words.

Reading
Read two new articles article at Days in Levels every day.
Read one previous article too and check if you remember all new words.

Listening
Listen to the new article and read the text at the same time.
Listen to the new article without reading the text.

Writing
Answer the question under the new article and write your answer in the comments.