The day GPS was fully operational – level 2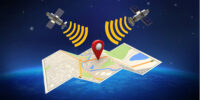 17-07-1995
The Global Positioning System (GPS) is a satellite system which gives information about your location on the Earth.
GPS was originally made by the United States for the US Army, but it is now used by people all over the world.
GPS is made of 24 satellites which go around the Earth. The satellites send signals to GPS receivers on the ground, for example, smartphones.
GPS satellites travel at a height of 20,000 km above the Earth and they go around the Earth twice a day.
The GPS system became fully operational on July 17, 1995.
Difficult words: location (a place), satellite (a machine which travels around the Earth), receiver (a machine which receives a signal).
What satellite services have been developed since the creation of the GPS system?
LEARN 3000 WORDS with DAYS IN LEVELS
Days in Levels is designed to teach you 3000 words in English. Please follow the instructions
below.
How to improve your English with Days in Levels: 

Test
Do the test at Test Languages.
Go to your level. Go to Level 1 if you know 1-1000 words. Go to Level 2 if you know 1000-2000 words. Go to Level 3 if you know 2000-3000 words.

Reading
Read two new articles article at Days in Levels every day.
Read one previous article too and check if you remember all new words.

Listening
Listen to the new article and read the text at the same time.
Listen to the new article without reading the text.

Writing
Answer the question under the new article and write your answer in the comments.