The day gambling was legalized in Las Vegas – level 2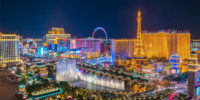 19-03-1931
In 1930, Las Vegas was a small town in the middle of the desert. There were just rocks and stones hundreds of kilometers around it.
Everything changed with the decision to build a large dam on the Colorado River. Thousands of workers came to Nevada to work on the dam. They were far away from their families and they needed to have some fun. This was a chance for Las Vegas which was only 48 kilometers away.
Las Vegas was a place where gambling, prostitution and selling alcohol happened before the building of the dam.
The US government decided to build a completely new town for the workers near the dam to keep them from these bad things. However, the workers wanted fun, and the Las Vegas businessmen wanted to give it to them. There was also help from Nevada's government because they gave permission to gamble on March 19, 1931.
The first official casinos were open in the city and the number of visitors began to go up. Not only workers from the dam, but also people from other parts of the USA began to come to Las Vegas to have fun. More restaurants and hotels were built for these new visitors.
Today, Las Vegas is a big city. It is the most visited city in the world with more than 40 million visitors a year.
Difficult words: dam (a big wall across a river), gambling (when you risk money in a casino), permission (official approval).
What other factors aided in the transformation of Las Vegas from a small town to the iconic destination it is today?
LEARN 3000 WORDS with DAYS IN LEVELS
Days in Levels is designed to teach you 3000 words in English. Please follow the instructions
below.
How to improve your English with Days in Levels: 

Test
Do the test at Test Languages.
Go to your level. Go to Level 1 if you know 1-1000 words. Go to Level 2 if you know 1000-2000 words. Go to Level 3 if you know 2000-3000 words.

Reading
Read two new articles article at Days in Levels every day.
Read one previous article too and check if you remember all new words.

Listening
Listen to the new article and read the text at the same time.
Listen to the new article without reading the text.

Writing
Answer the question under the new article and write your answer in the comments.