The day four pirates attacked a big ship – level 3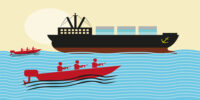 08-04-2009
In 2009, a group of Somali pirates launched an attack on a US cargo ship 440 km southeast of Somalia.
The attack took place on April 8, 2009, and the US ship carrying food for Somalia and Uganda had a crew of 23.
Four armed Somali men boarded the ship using a boat and attempted to hijack it. However, the crew of the ship led by their captain fought back against the attackers. After a tense standoff, the pirates eventually took the captain hostage and fled in a lifeboat, which was later surrounded by US Navy ships.
After a failed negotiation attempt, US soldiers shot and killed three of the pirates, while the fourth pirate surrendered and was taken into custody.
The captain was rescued unharmed and the remaining crew members were also safely rescued.
Difficult words: cargo (goods carried in a ship), hijack (to take control of a ship illegally), standoff (a situation when nothing is changing during a fight), hostage (a prisoner for whom somebody wants something).
What impact did this incident have on international efforts to combat piracy in the region?
LEARN 3000 WORDS with DAYS IN LEVELS
Days in Levels is designed to teach you 3000 words in English. Please follow the instructions
below.
How to improve your English with Days in Levels: 

Test
Do the test at Test Languages.
Go to your level. Go to Level 1 if you know 1-1000 words. Go to Level 2 if you know 1000-2000 words. Go to Level 3 if you know 2000-3000 words.

Reading
Read two new articles article at Days in Levels every day.
Read one previous article too and check if you remember all new words.

Listening
Listen to the new article and read the text at the same time.
Listen to the new article without reading the text.

Writing
Answer the question under the new article and write your answer in the comments.