The day four pirates attacked a big ship – level 2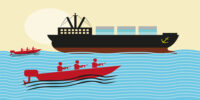 08-04-2009
In 2009, a group of Somali pirates attacked a US cargo ship 440 km southeast of Somalia.
The attack took place on April 8, 2009. The US ship was carrying food for Somalia and Uganda. There were 23 crew members on board.
Four armed Somali men boarded the ship. They tried to take control over the ship but they didn't succeed.
The pirates left the ship on a small boat, but they took the captain as a prisoner.
After some time, US Navy ships arrived and tried to negotiate with the pirates.
When the negotiations failed, the US soldiers shot and killed three of the pirates. They put the fourth pirate in prison.
The captain was rescued unharmed, and the remaining crew members were also safely rescued.
Difficult words: cargo (goods carried in a ship), Navy (the army at sea), unharmed (not hurt), remaining (those who were left).
What was the outcome of the US Navy operation to free the captured captain?
LEARN 3000 WORDS with DAYS IN LEVELS
Days in Levels is designed to teach you 3000 words in English. Please follow the instructions
below.
How to improve your English with Days in Levels: 

Test
Do the test at Test Languages.
Go to your level. Go to Level 1 if you know 1-1000 words. Go to Level 2 if you know 1000-2000 words. Go to Level 3 if you know 2000-3000 words.

Reading
Read two new articles article at Days in Levels every day.
Read one previous article too and check if you remember all new words.

Listening
Listen to the new article and read the text at the same time.
Listen to the new article without reading the text.

Writing
Answer the question under the new article and write your answer in the comments.