The day Disneyland was opened – level 1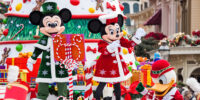 17-07-1955
On July 17, 1955, Disneyland opens in California.
People build the park in one year. It costs $17 million.
The opening day is full of difficult moments.
28,000 people come, but half of the visitors buy fake tickets.
There are too many people in the park, and after some time some restaurants don't have food and drink for all of them.
The weather was very hot with a temperature of 38°C, and people must wait in long lines.
Some attractions don't work well.
This is a bad day for the workers in the park, who work very hard for visitors.
After the problems of the opening day, Walt Disney invites all guests again for a second day for free. Now, visitors feel better.
The first day is difficult, but the park is a success, and it quickly becomes popular.
Difficult words: fake (not real), invite (to tell somebody to come to a party), success (when you get what you want).
What lasting impact did the opening of Disneyland have on the theme park industry?
LEARN 3000 WORDS with DAYS IN LEVELS
Days in Levels is designed to teach you 3000 words in English. Please follow the instructions
below.
How to improve your English with Days in Levels: 

Test
Do the test at Test Languages.
Go to your level. Go to Level 1 if you know 1-1000 words. Go to Level 2 if you know 1000-2000 words. Go to Level 3 if you know 2000-3000 words.

Reading
Read two new articles article at Days in Levels every day.
Read one previous article too and check if you remember all new words.

Listening
Listen to the new article and read the text at the same time.
Listen to the new article without reading the text.

Writing
Answer the question under the new article and write your answer in the comments.